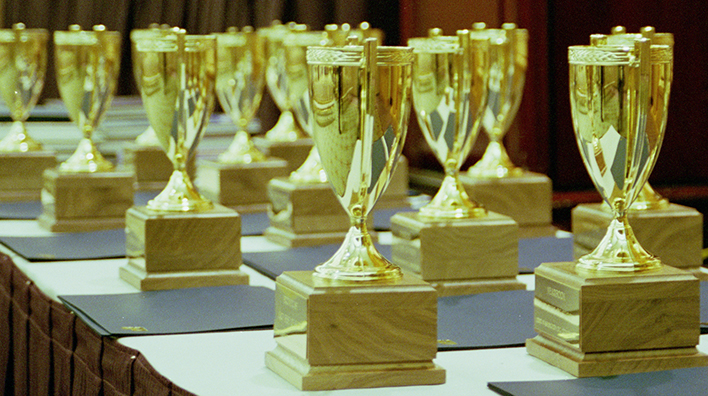 All NSPA member high school staffs (with students attending) and junior high advisers are invited to enter their website, newspaper, yearbook, newsmagazine, broadcast production or literary arts magazine in the NSPA Best of Show competition.
The competition is offered during each JEA/NSPA convention. Best of Show winners will be announced at the awards ceremony at 3:30 p.m. Saturday, Nov. 18.
Best of Show is a competition in which entries compete against each other and a critique or scoresheet is not provided.
Newspapers, newsmagazines and broadcasts must be published between Aug. 1, 2017, and the start of the convention. Only 2016-17 yearbooks and literary magazines will be accepted. Websites must have been updated since Sept. 1, 2017.
NSPA Best of Show competition rules:
High school publication staffs must have at least one student representative registered for the convention in order to be eligible for the Best of Show competition. Junior high publications may be entered as long as the adviser is a registered delegate at the convention.
A special-edition newspaper/newsmagazine should meet one or more of these qualifications: anniversary commemoration; extra edition or thematic coverage (majority of coverage devoted to one topic). Schools may enter one issue of their newspaper or newsmagazine in the regular newspaper or newsmagazine categories and one issue in the special edition newspaper/newsmagazine category. No issue or edition may be entered in more than one category.
Broadcast entries will consist of a single program, which may not be longer than 20 minutes. Entries must be submitted via a direct URL (i.e. a YouTube or Vimeo link).
Member publications of any kind may enter in the website category. Entries will be judged for general excellence in coverage, interactivity, breaking news, design and rich media. Entries will be divided into categories based on school enrollment.
Non-special edition newspaper and yearbook categories are divided according to publication size. Click here for information about distinctions between broadsheet newspapers, tabloid newspapers and newsmagazines. Junior high publications are judged in separate newspaper and yearbook categories.
Publications must submit their entry on site at the Best of Show desk near convention registration. Do not mail entries to NSPA prior to the convention.
Entries are due to the Best of Show desk by 4 p.m. Friday, Nov. 17.
NSPA membership is required to participate in all contests at the high school level; junior high/middle school entries do not require NSPA membership. Entry fee is $20 per category, payable by cash, check or credit card. Entry fees may be prepaid using the convention registration form, provided your NSPA membership is current for each publication entering.